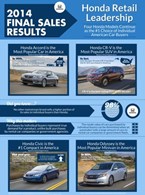 Final retail registrations for 2014 are now available, and, once again, four Honda models led the industry in retail registrations in their respective segments, according to Honda analysis of data from IHS Automotive. Repeating their 2013...
Read This Article>

Whether you're looking at the sedan or coupe builds, the 2015 Honda Civic colors give you a wide range of options, and we're sure that there are enough choices available to please nearly any of our Detroit Metro drivers. After you've settled on an...
Read This Article>
"Hitting the Slopes" – MY15 CR-V AWD LX
Q. Is it bad to regularly drive my car until the low gas light comes on?
Read This Article>
Your doctor is the best resource available to you when it comes to information about your health and wellness. But though a doctor will do his or her best to give you all the information you need, it will take a little bit of preparation on your...
Read This Article>
Every year, many drivers become drowsy or fall asleep behind the wheel, putting themselves and other drivers at risk. Government statistics paint a disturbing picture that suggests that every driver should be careful to avoid driving while drowsy....
Read This Article>
Fitness bootcamps can be a great way to get in shape in a short period of time. But they're not for everyone. Check out the pros and cons and see if it's right for you.
Read This Article>
Subscribe Now!
Sign up today to receive your monthly newsletter.



Driving Directions
Sales Dept. Hours
Mon & Thur: 8:30 am – 8:00 pm
Tues, Wed & Fri: 8:30 am – 6:00 pm
Sat: 10:00 am – 3:00 pm
Sun: Closed
Service Dept. Hours
Mon & Thurs 7:30am - 8:00pm
Tues, Wed & Fri 7:30am - 6:00 pm
Sat 8:00am - 2:00pm
Sun: Closed
Many different recipes exist for St. Patrick's Day cupcakes. This simple recipe utilizes pistachio pudding mix to give the cupcakes a pretty pastel color and a mild flavor, and handcrafted gummy shamrocks made from green gumdrops top off these...
Read This Article>